We have included eleven navigation styles in the Crema. You can choose the Navigation style according to your choice and requirement by following the under-written steps.
Changing Navigation Style in run time:-
Click on the settings button on the right corner of the screen just below the notification icon, a drawer will open in which you will find the navigation styles option and from there, you can the navigation style of your choice.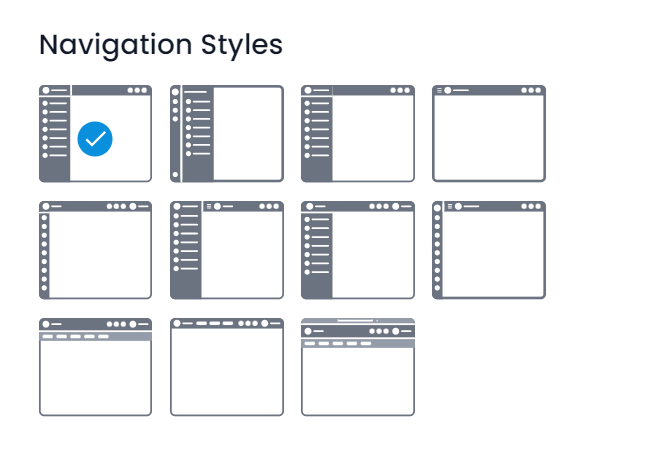 ​
Changing Navigation Style in development mode (setting default Navigation Style):-
To set the default Navigation Style, go to the
src/@crema/constants/defaultConfig.js
In this file, you will find a property named '
navStyle
' inside the defaultConfig object which accepts eleven values. You need to set the value of '
navStyle
' according to your choice. You can achieve it like below.
navStyle
:
process
.
env
.
NX_NAV_STYLE
,
//Change this according our requirement
########
NavStyle
(
src
/
@crema
/
constants
/
AppEnums
.
js
)
##########
export
const
NavStyle
=
{
BIT_BUCKET
:
'bit_bucket'
,
MINI_SIDEBAR_TOGGLE
:
'mini-sidebar-toggle'
,
HEADER_USER
:
'user-header'
,
HEADER_USER_MINI
:
'user-mini-header'
,
HOR_HEADER_FIXED
:
'hor-header-fixed'
,
HOR_DARK_LAYOUT
:
'hor-dark-layout'
,
Layouts and their schematic designs are as follows:-
1.

Default Layout

​

2.

Standard Layout

​

3.

Mini Layout

​

4.

Drawer Layout

​

5.

Bit Bucket Layout

​

6.

Horizontal Default Layout

​

7.

Horizontal Light Navigation Layout

​

​

8.

Horizontal Dark Navigation Layout

​

9.

Mini Sidebar Toggle

​

10.

Header User

​

11.

Header User Mini

​